Crop Top Diamond. Hello my wonderful followers, today I come here on the Crochet Easy Patterns blog to leave you one more inspiration of crochet yarn crafts that is the latest fashion, this blouse that, in addition to being beautiful, is very modern, a very versatile and exclusive piece, a real charm.
The step by step is complete, with all the important details for you to make this extraordinary piece, excellent illustrative images, everything to facilitate your learning, remembering that all patterns available on this blog are free and we have numerous ideas for you to improve your art of crochet.
This piece is also an excellent idea to give a gift to a loved one, as the color suggestion is black, but you can make the color you want, and we also suggest doing it in mixed lines, some even have bright threads, which makes the piece more exquisite, but these are all just suggestions, we really like it when you, our dear readers, make your own combinations, because we know that inside each one of you there is a very talented artist.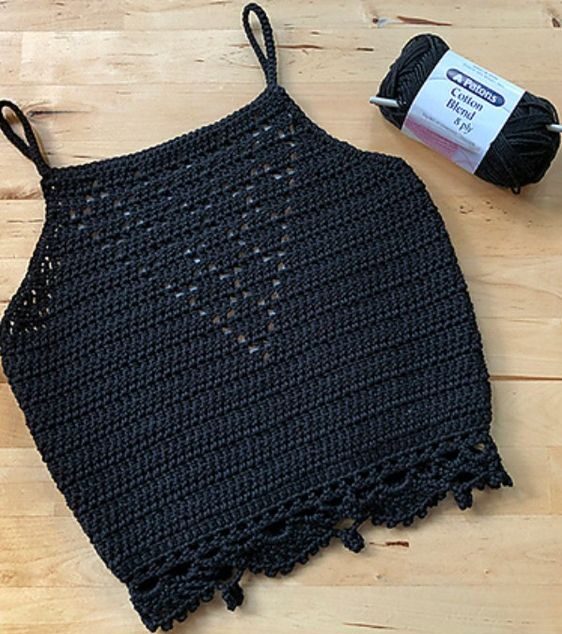 The art of crochet brings many benefits to all of us and that's why this Crochet Easy Patterns blog is only intended to spread the word about crochet yarn craft to as many people as possible, because we live day to day with this craft and we know that he has helped us in several areas of our lives, especially nowadays, so we hope that other people can also benefit from this art.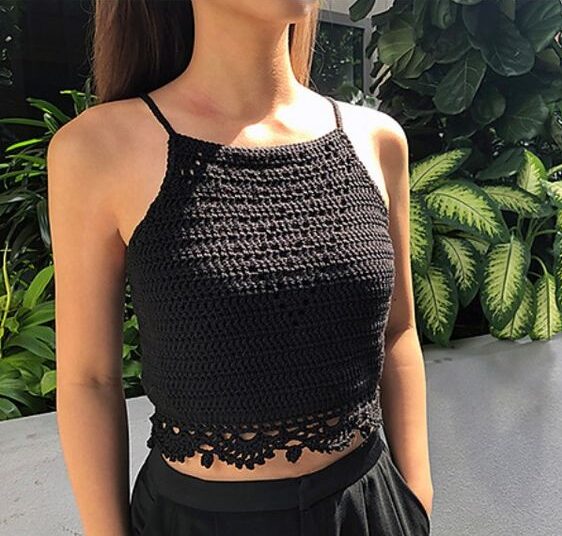 We want to thank all our readers, for the messages received with pieces made by you, we also received with great affection all requests for patterns, and we are doing our best to make them available to everyone here on our blog as soon as possible, we are with an amazing order demand, and we are very excited and motivated about it, this interaction of yours is very motivating.
See how to make Crop Top Diamond
You will need:
150 g DROPS Safran [100 % cotton, weight/yardage 1.8 oz (50 g) approx 175 yds (160 m)] in off white (color code 18)
hook/needle size US 2.5/3mm
5 buttons
How to work:
The following pattern used American crochet terminology. For an overview of English crochet terminology pleaselook here.
st – stitch
ch – chain
sc – single crochet
dc – double crochet
Gauge: 20 dc x 11 rows = 4″ x 4″ (10 x 10 cm)
Size: Small
Cast on 167 ch.
A1: Work 1 dc into 4th st on hook. Work 1 dc into every ch until end of row. Turn (=165 st).
R2: 3 ch, 1 dc into every dc from the row below. Turn (=165 st).
Continue to work R2 until your piece has a length of 4" (10 cm). Mark the center st of your work (i.e. 82 st, center st, 82 st). Additionally place markers after 58 st and 107 st (marks the 49 st for mesh in the middle!) Begin to work the mesh pattern (M.1)
After 5.5" (14 cm) start with decreases for shaping while continue to work M.1 : skip the 28 outermost st of the left and on the right side (= 109 st)
Now decrease 2 st on the left and on the right side in every row (i.e. Dec 4 st per row). Decreases are worked 12 times in total (= 61 st)
Decrease 1 st at the beginning and end of row (ie Dec 2 st per row). Decreases are worked 6 times in total (= 49 st).
The mesh pattern in the middle contains 49 st. Bind Off.
Access The Free Pattern/ Crop Top Diamond
Some of you are coming to our site now, so we want to welcome you and say that our blog has patterns for all levels of artisans, both beginner, intermediate and advanced, so feel free to browse the blog and choose the most appropriate pattern to get you started in this craft.
If you liked this pattern, but would like to see some more possibilities of pieces, below we will leave some ideas of the most diverse patterns of crochet yarn crafts:
♦ Starting with a Granny Shawl 
♦ Continuous Granny Square Shrug 
We wish you all an excellent week, full of health in all of your homes, a lot of empathy with each other, joy, happiness, prosperity and, above all, a lot of motivation to start another crochet piece.
Crochet is too good!