Pineapple Doily. Hello my dear readers, I come to the Crochet Easy Patterns blog to bring you all another beautiful novelty in crochet yarn craft, an amazing piece, full of details, but easy to learn, I think you will all enjoy this project a lot, he is a real charm.
The Pineapple Doily walkthrough, is very complete, comes with very enlightening illustrative images, a descriptive pdf in the details, suggestions for colors, threads and needles, everything to facilitate the initiation of your crochet yarn craft piece, I believe you will be amazed by this pattern.
The Pineapple Doily is one of the most requested patterns by our readers and artisans, as it is a traditional piece that anyone with the slightest interest in crochet would like to get, this pattern comes with some suggestions for color combinations, therefore, it is up to you to choose the colors of your project, the images are merely illustrative, and also just suggestions for you to be inspired and create your crochet yarn crafts.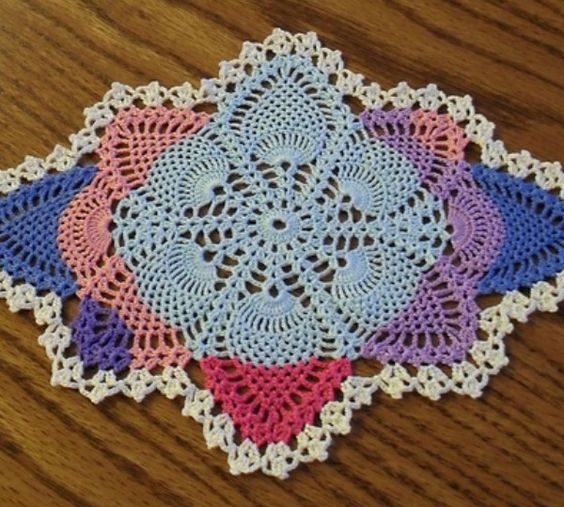 If you are visiting our Crochet Easy Patterns blog for the first time, we would like to welcome you, and say that our blog is only intended to spread the word about crochet yarn crafts to as many people as possible. We have a lot of respect, affection and love for crochet yarn craft, as it has added a lot of value to us over time, and provided us with great life experiences, so we want other people to also benefit from this beloved crochet yarn craft. crochet.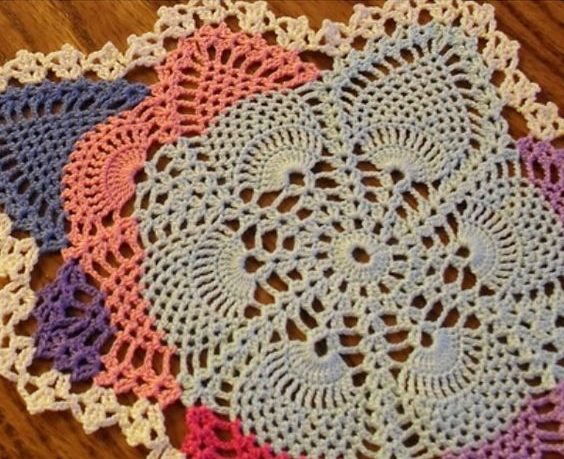 Remembering that all our collaborators are volunteers and look for new and better crochet patterns every day, so that our readers have more and more options to create their pieces, with more quality and creativity, all our patterns are free what makes your learning much easier.
See now how to make Pineapple Doily:
Access The Free Pattern/ Pineapple Doily
Some materials you will need to make this piece:
MATERIALS:
J. & P. ​​​​COATS or CLARK'S O.N.T. BEST CROCHET WITH SIX MERCERIZED HANDLES, Size 20.
Small ball:
J. and P. Coats – 2 balls of White or Ecru,
or
O.N.T. Clark's – 2 balls of White or Ecru.
big ball:
J. and P. Coats – 1 ball of White, Ecru or Cream.
No. 8 or 9 steel crochet needle.
Doily measures 10 x 14 inches.
Starting in the center, ch 8. Join with the sl st to form the ring. 1st rnd: Ch 3, 23 AD in the ring. Pbx on 3rd of ch-3. 2nd rnd: Ch 3, dc in same place as sl st, * ch 2, skip 1 dc, 2dc in next dc. Repeat from * around, ending with 2 ch, sl st in 3rd st of ch-3. 3rd: Sb in the next sc and in sp, ch 3, in the same sp make sc, ch 2 and 2 sc (initial shell done); in each surrounding sp, make 2 sc, ch 2 and 2 sc (shell made) – 12 shells in rnd. 4th: Clue in next sc and sp, ch 3 and complete a shell as before (shell over shell made), * ch 2, shell in sp of next shell (another shell over shell made). Repeat from * around. Join the last ch-2 with sl st at the top of the start chain. 5th: * Shell over the shell, ch 4, in the sp of the next shell make 2 sc, ch 5 and 2 sc; ch 4. Repeat from * around. To bring together.
If you liked this Pineapple Doily pattern, but would still like to see some more options, below I'll leave more crochet yarn craft models:
♦ Crochet Gigi Blanket Pattern
We wish you all an excellent week, filled with lots of peace, prosperity, health, joy, and lots and lots of crochet yarn craft patterns, so you can have a lot of fun between threads and projects.
Crochet is too good!