Ocean Breeze Doily. Hello my beloved and dear followers, today I come to leave here on our blog another wonderful doily, beautiful and easy to be crocheted, we believe that you, skilled as you are, will take the letter how to make this beautiful crochet yarn craft pattern, we particularly love this pattern as it is not only delicate but also very interesting.
This walkthrough is very descriptive, comes with all the material you'll need to start the piece, some illustrative images with a neutral color combination, and a complete pdf, so you don't have any distractions along the way, and can finish this pattern very successfully.
Remembering that the color combination is just a suggestion, you can do as you like, and we can already say that we believe that incredible projects will come out of your inspirations, as we know that our dear crocheters on duty are very creative, as we have received the your messages with completed projects and we've been very happy with what we've seen from your projects, you guys are amazing, we love our work and we love our followers.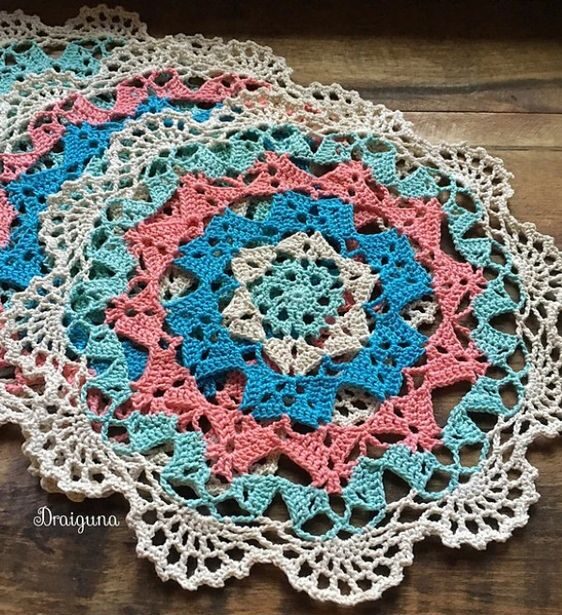 We want to remember, if you are coming to our blog now, that all our patterns are free, and that we have all kinds of patterns available on our blog, of all levels, beginner, intermediate and advanced, so, browse the blog, we believe you will find an ideal pattern for your craftsman moment.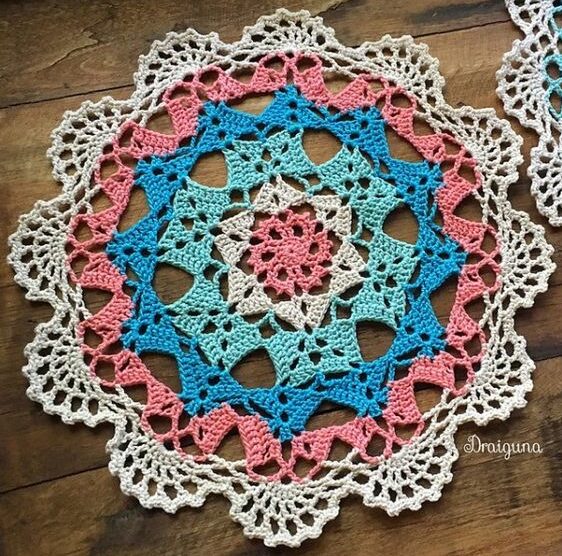 Here at the Crochet Easy Patterns blog, we love this craft of crochet yarn, we only have the intention of spreading it to as many people as possible, because we know the countless benefits we have with the act of crochet, and that's why we are dedicated to spreading around the world this habit, this hobby, this art, and we invite all of you to do the same, to impact the lives of loved ones, we believe that if we are more empathetic with each other, we have great chances of becoming better human beings. , that's why we count on you, our dear artisans.
See below some materials you will need to make Ocean Breeze Doily:
Materials needed
size 10 thread in 4 colors
1.75 mm hook
special stitches
picot- ch 2, sl st in second ch from hook
beg shell- ch 3, (dc, ch 3, 2dc) in space indicated
shell- (2 dc, ch 3, 2 dc) in space indicated
beg double shell- ch 3, dc, (ch 3, 2 dc) twice in space indicated
double shell- 2 dc, (ch 3, 2 dc) twice in space indicated
Access The Free Pattern/Ocean Breeze Doily
If you want to see some more options for crochet yarn craft patterns, below we'll leave more inspiration:
♦ Continuous Granny Square Shrug 
We wish you all an excellent week, full of unmeasured blessings in your homes, a lot of peace, health, joy, happiness, good cheer, motivation and especially many, many patterns of crochet yarn crafts, watered with many lines of different colors .
Crochet is too good!