Burberry Baby Blanket. Hello my beloved crocheters, how are you feeling today? I truly hope you are all very well, and especially willing to start another beautiful piece of crochet yarn craft, because the step by step I will make available here today is very beautiful and elegant, I think everyone will love it, as it can be made of different colors and combinations.
This Burberry Baby Blanket pattern of crochet yarn crafts, has always been requested by our readers, however, we had not yet found a step by step that was as complete as this one, finally, this pattern was tested by one of our collaborators, and really it was a divine piece, so we couldn't not share it with you all.
This crochet can be done in numerous color combinations, as it is a very versatile, as well as elegant, crochet yarn craft piece. This walkthrough of Burberry Baby Blanket is very complete, comes with very clear illustrative images, suggested lines, needles and color combination, in case you want to follow the project to the letter, everything to facilitate your learning.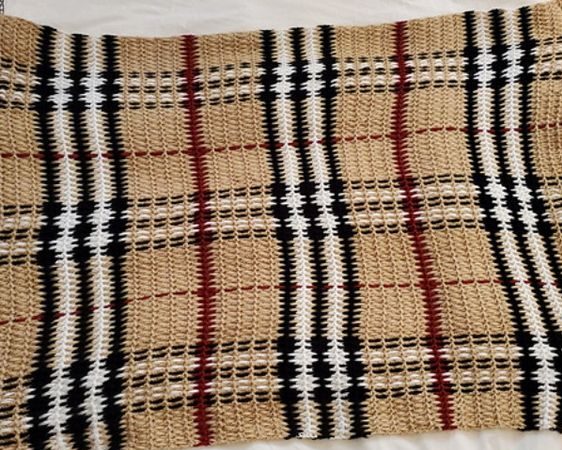 We want to thank all our readers for the messages received, you are very dear to us, and this interaction allows us to measure what are the pattern desires you want to see here, and I must stress that all our collaborators at Crochet Easy Patterns are volunteers, and have the same dedication as all of us to crafting crochet yarns, so all our patterns are free and come with all the necessary materials so you can start a crochet project today.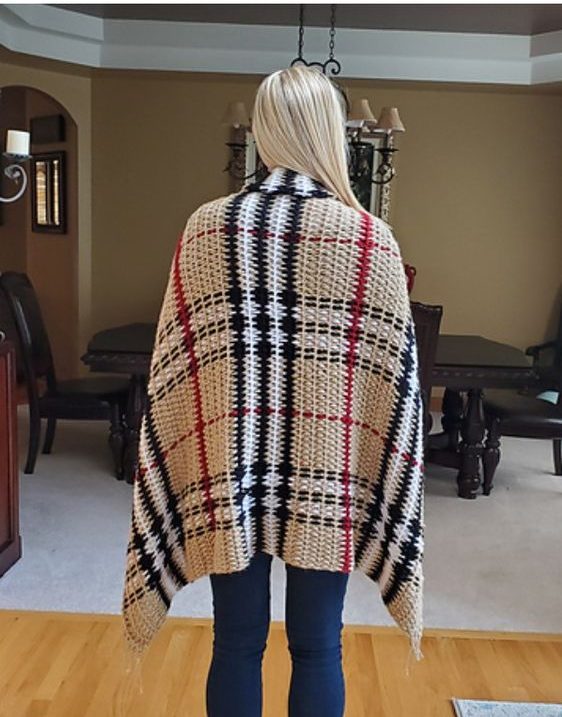 And for you who are accessing our blog for the first time, be very welcome, we want to wish you many experiences with the craft of crochet yarn, this art provides us with several benefits, and one of them is a feeling of well-being, and a duty fulfilled, because with each finished piece, we are very proud of our finished work, especially if the piece we are working on is presented to someone, the gratitude is even greater.
See how to make Burberry Baby Blanket below:
Access The Free Pattern/ Burberry Baby Blanket
Some materials you will need for this pattern:
Materials:
bone (it looks like tan, don't worry) Caron's Simply Soft – 2 skeins
black Caron's Simply Soft -1 skein
white Caron's Simply Soft – 1 skein
autumn red Caron's Simply Soft – 1 skein
Size G hook.
If you don't want to use Caron's Simply Soft, you can use whatever worsted weight yarn that's
on the small side that you'd like. Just make sure you have at least 630 yards of whatever main
color (A) you'd like, and 315 yards each for the remaining colors (B,C, D). You could basically
make this plaid with any color combination you'd like.
This blog aims to promote the crochet yarn craft to as many people as possible, as we have many reports of people who started making crochet yarn craft, because of an occupational therapy and now do it as a hobby, in short, there are so many benefits that we would like others and thousands of people to be impacted by the craft of crochet yarn, that's why we made this blog voluntarily and free of charge.
If you, like us, also feel in your heart the need to help other people, spread the word about crochet yarn crafts, it can be to anyone, a loved one, a neighbor, a friend, anyone, sometimes a simple gesture, it can make a big turnaround in someone's life.
And if you are a beginner in crochet yarn craft, never be discouraged, because here in our Crochet Easy Patterns blog we have several types and levels of crochet, beginner, intermediate, advanced and professional, we believe you will find a pattern that matches fit it into your profile, then browse our blog and find a project that motivates you to start a crochet yarn craft today.
If you liked this pattern, but want to see some more options, below there will be other patterns for you to view:
We wish all our beloved readers an excellent week, full of unmeasured blessings in their homes, lots of peace, prosperity, joy, health, and especially many patterns of crochet yarn crafts.
Crochet is too good!