Camellia Flower crochet. Hello my dear followers, how are you feeling today? I truly hope that you are very well, and full of desire to learn something new, as I will leave a beautiful flower pattern for you, very easy to learn. It is an excellent novelty, with this pattern you will be able to create several pieces, it will be fun.
Camellia Flower crochet. Today's pattern is very complete, it has very clear illustrative images, in sequence to facilitate your performance, and also a video tutorial of just ten minutes, with that I believe that you will have no difficulties in doing so. They are classic flowers, that you can use them in different ways, you just need to get creative, and I know you have a lot.
Camellia Flower crochet. When I started to crochet years ago, I started with application pieces like this one, it helped me a lot in the beginning, because because they are small pieces, it had a quick start and end, which didn't get me too tired and left me free quickly to start new ones projects, I don't know your crochet skill level, but I believe that a piece like this helps any craftsman.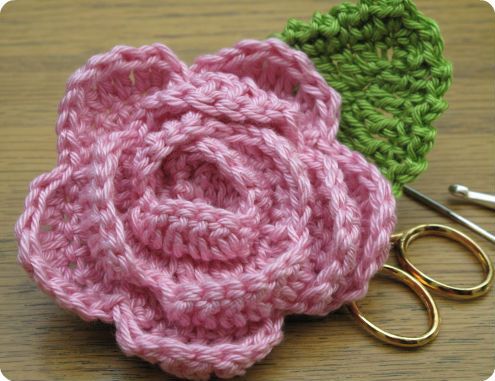 When I received this pattern from a follower, I was very excited, because she sent me several photos of the works she had done, and guys, they were beautiful works, ranging from application to blankets, pillows, to flowers with stem to put in decorative vases and hair clips, so I believe that with this pattern you will have a lot of fun, just dare a little bit.
Below I will leave you a list of material, to make it easier, but always remember, everything here is a suggestion, if you have a different idea of ​​core or lines, do it your way, the important thing here is to create, new patterns and new works of art, and of course don't forget to share your projects with us, we love to interact with you.
We want to thank everyone for the countless messages with work already completed through patterns here on our blog, it is very gratifying to see your pieces, this motivates us to continue the search for even more extraordinary projects for you, and as we always like to emphasize here on our blog, dare in your pieces, because a true artisan always leaves his trademark in his projects, because anyone looking for crochet yarn crafts seeks exclusivity, and no one better than a creative artisan to do this part, soon , have fun crochet, this is the most important part.
Pattern notes
You can use whatever yarn you have in your stash. It will only change the final measuremetns of your flower. For example if you want to make it smaller you can use DK (double knit) / light worsted weight yarn or if you would like to make it bigger you can use bulky / chunky weight yarn.
Change your hook accordingly to your yarn.
There is not a specific type of yarn. You can use whatever type of yarn you have in yours stash- cotton, acryl, wool.
Materials:
Worsted weight yarn / Medium 4 weight yarn / Aran weight yarn in any color shades you'd like.
I used Bernat Premium yarn (100% Acrylic / 198 g, 360 yds / 329 m) in different shades.
Crochet hook size 5mm / US crochet hook size H
Tapestry needle
Pair of scissors
Abbreviations:
dc double crochet stitch
MR magic ring
Sl.st slip stitch
Chain (s)
st (s) stitch (s)
or ** repeat whatever follows the * or **
Pattern itself:
Crochet flower:
Row 1: ch 40, 2 dc in 4th ch from hook, * ch 1, skip 1 st, 3 dc in next ch * rep from * to 14 more times,
ch 2, turn
Row 2: dc in base of initial ch 2, 2 dc in next st, dc in next st, ch 2, sl.st in 1st ch-sp, * ch 2, dc in next
st, 2 dc in next st, dc in next st, ch 2, sl.st in next ch-sp * rep from * to * 13 times, ch 2, dc in next st, 2 dc in next st, dc in 3rd ch of turning ch-3, ch 2, sl.st in 3rd ch of turning ch again. FO.
You will have a curly piece. Take 1 side and curl it to the center to form the flower. Take a tapestry
needle and sew all the layers together at the back. Make sure that the needle goes through all the layers.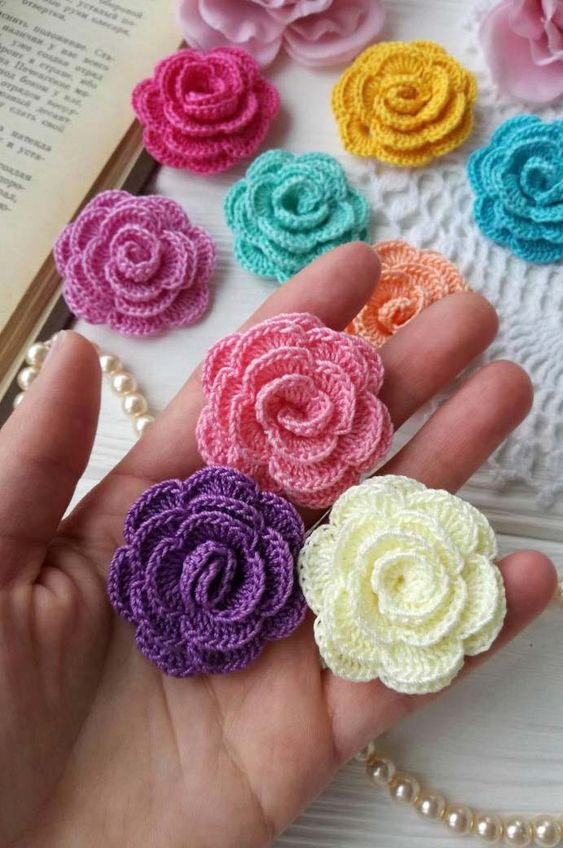 Access The Free Pattern / Camellia Flower crochet
If you liked this pattern and want to see other crochet ideas, here are other patterns for you to have fun:
♦ Hawaiian Plumeria Flowers crochet 
♦ Crochet Catherines Wheel Waves Blanket 
♦ Spike Cluster Stitch for Blankets 
We wish you all a wonderful week, full of many patterns of crochet yarn crafts.
Crochet is too good!