Birdie Cute Blanket. Hello my dear fellows in this crafts world, I hope you are having a great day. And if not, I hope your day gets better soon, so you can start your week with the right foot. Sometimes we may feel a little blue, for many reasons we do not always understand. That is expected, we all have our ups and downs. What matters, in the end, is going through all and still being able to move forward.
For this post, we brought to you a very cute and colorful project. This is an intermediate pattern. It involves many colors, so you need to have some practice when it comes to adding and exchanging between colors. Also, to finalize the blanket, you will need to sew the squares together. Therefore, if you have more practice, the finishing will be better.
However, I know we have many crocheters here, sharing ideas with us. And that is absolutely amazing, makes us so happy, and gives us the incentive we need to continue keeping with this blog. Because of that, we suggest you browse our blog for a few minutes, if this project is too advanced for you. I have no questions, you will find some pattern that will fit your skill level.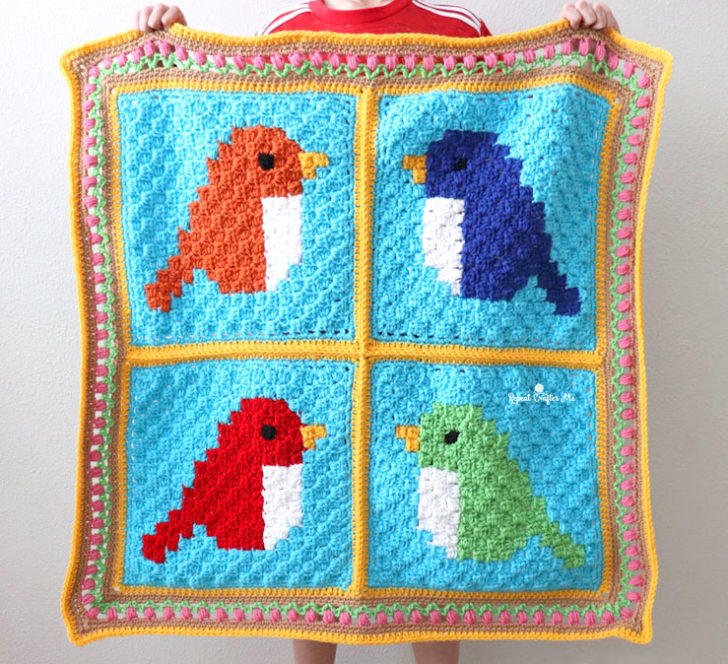 Our birdie blanket is cute and I think colors play an important role here. Create high contrast between the square background and the figure in the center. That will enhance your blanket even more. 
Are you ready to give this cuteness a try? You can find available at Repeat After Me, a carefully made tutorial, guiding you through every stitch and  step of the way. The tutorial includes graphics, pictures and colors ideas. I have no doubts it will make your production easier. Let me know the results, you know I love to see your pieces. Have a great day and an even better week. 
If you liked this crochet yarn craft pattern, but would like to see even more models, I'll leave you with other options below:
The Crochet Easy Patterns blog, wishes all our dear and beloved readers, an excellent week, full of God's blessings in their homes, with much health, peace, love, prosperity and of course, many and many handicraft patterns from crochet yarn. crochet.
Crocheting is too good!