Afghan Granny Square. Good morning my friends, it is so great to have here, at Crochet Easy Patterns. Another day, another pattern, right? How are you feeling today? Ready to try something new? I hope so. Crochet is a great way to spend some time relaxing and improving skills like concentration and coordination.
If you like crochet, there is nothing like making your own blanket when the cold approaches, with which you can keep warm while you sleep or keep warm on the sofa while you watch television. We are going to see the continuation step by step and in an easy way of how to make a crochet blanket.
Afghan Granny Square. There are foundations to any activity we make. If it is swimming, writing or crafts, some movements or abilities are the base for future evolutions in these activities. In crochet this is not different, there are some stitches that are fitting in many pieces.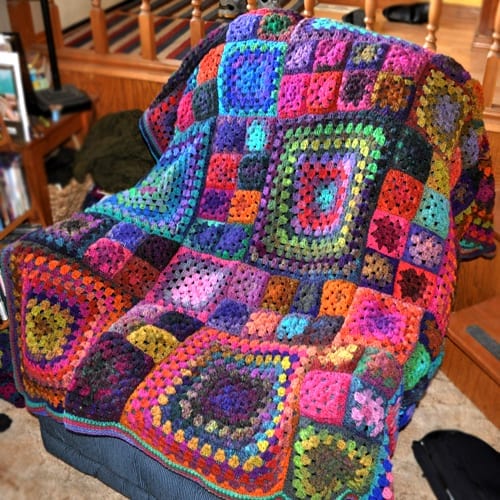 Not only are these stitches adaptable, they are also the base for other more complicated stitches. That is why it is important to know them very well. Even if you are an advanced crocheter, practicing these foundations from time to time is a terrific way to keep your skills sharpened.
For today, we brought you the Afghan Granny Square. The afghan stitch and the granny square are both basic foundations of crochet. With this tutorial you put them together, resulting in a comfy blanket. Even more, this is a great recipe to use some leftovers you may have around your house.
Check the PDF file we have left for you above. You will have the chance to practice both stitches, use your leftovers and end up with a great blanket or a comforter. This PDF is detailed and for sure will help throughout the making process. We hope you make good use of it. That is it for now, we will see you in our next project. Until then, bye-bye! 
Access here the PDF file tutorial // Afghan Granny Square
If you still haven't quite decided whether to start your new project with this pattern, below are some more options that you might like, be sure to check them out:
We wish all our dear and beloved readers, an excellent week, full of God's blessings in your homes, much love, affection and affection among your loved ones, health and prosperity among all, and of course, not least, much creativity , good cheer and many, many crochet yarn craft patterns.
Crocheting is too good!