Alpine stitch. Good evening my colleagues, explorers of the crafts and its benefits. How are you going today? I hope this post finds you all well and healthy. And if you are looking for inspiration, you have reached the right place, for sure. This is a space to exchange ideas and help each other to evolve our crafts techniques.
Passed from generation to generation, crochet never falls into disuse because it is timeless, and also because it is easy to adapt it to the current situation. If used creatively, it can warm up in winter, add color and texture to environments, add a personal touch to the contemporary, be part of a more minimalist choice or renew the energy and look of dull furniture, all without losing that retro feel, and cozy in grandma's house.
Crochet is a wildcard in decoration. In addition to bringing color and texture, it also warms up all the rooms in the house during the slightly colder seasons.And who doesn't love a beautiful and cozy space at the same time? For lovers of an original decor, crochet is the ideal choice: produced by hand, it adds more richness and exclusivity to each piece.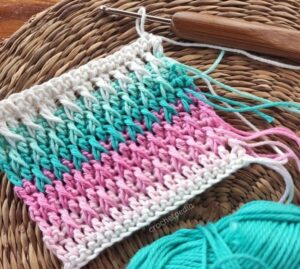 And it is possible to add it in different ways: through a beautiful quilt on the bed, a blanket thrown on the sofa, a colorful pillow, a rustic cachepot, charming covers for benches or armchairs, among other options.
Alpine Stitch. We cannot stress enough how versatile crochet is. There are more possibilities on how to work with it that we can actually count. A few posts ago we started to talk about stitches and patches adaptable onto different items. Today's recipe is not different, the original recipe is a blanket. However, with Alpine Stitch you can produce almost any piece you can think of.
This stitch does not require a lot of experience, so if you are a beginner, that is not a problem. Following the PDF linked above you can start practicing and reach the more complicated items, maybe a sweater or even a skirt. Do not forget to write to us what you decide to make. See you guys in our next post. Until then, riches and blessings to you all! 
Find here the tutorial you need / Alpine Stitch 
More crochet basics? Check below:
The Crochet Easy Patterns blog wishes all its wonderful readers an excellent week, filled with prosperity, peace and joy in their homes, and especially lots and lots of crochet yarn craft patterns.
Crocheting is too good!