Cardigan With Bobble Stitch
Cardigan With Bobble Stitch. Hello my beloved crocheters, today I'm leaving here on the Crochet Easy Patterns blog another classic of our crochet yarn craft, this sweater, in addition to being cute, is one of the most requested patterns here on our blog, so we made a point of bringing it it first hand for you guys.
The step-by-step is very complete, comes with a descriptive pdf, illustrative images in different colors, they are also very sharp, which makes it much easier to see the crochet stitch, in short, everything to facilitate your performance when making the piece, this it's a true classic, every self-respecting professional craftsman must have such a piece in his collection.
It's worth remembering, especially if you're coming to our blog now, that we have the most diverse patterns available here, from all levels included, just browse our blog a little, and we believe you'll find the ideal model to start with a new project even today.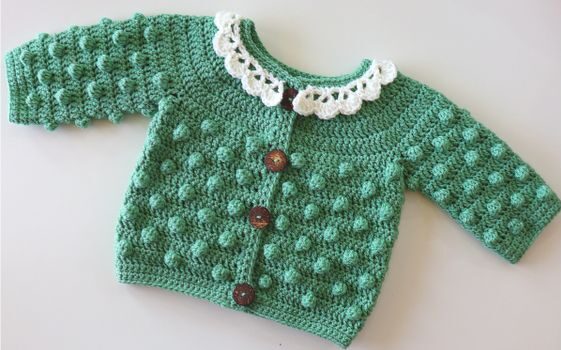 We have all levels of patterns available, both beginner, intermediate and advanced, so we have patterns for all tastes, also feel free to interact with us through messages and ask for a specific pattern, or even leave your opinion , suggestion for our blog.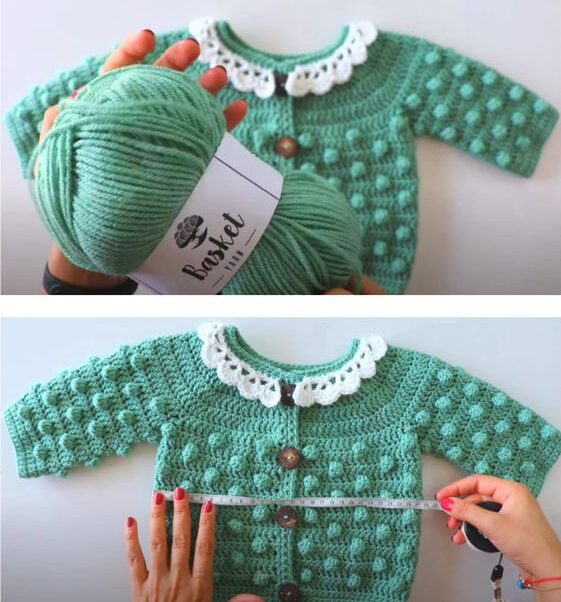 This blog is made only with the purpose of spreading the crochet yarn crafts to as many people as possible, because we love crochet, we have fun with it, this is our favorite hobby, and we made a point of sharing it with other people, so that other people are also benefited, so this interaction with our readers is very motivating.
See below some materials you will need to make Cardigan With Bobble Stitch:
MATERIALS
Yarn
Basket Yarn – Green (light worsted, need a little more than one skein)
Utopia Classic – White (or can be any yarn in the same category with main one)
4.5 mm and 5 mm Crochet Hooks
4 Buttons
Yarn Needle
Scissors
STITCHES & ABBREVIATIONS
ch = Chain
st(s) = Stitch(es)
sl st = slip stitch
yo = Yarn Over
sc = Single Crochet
fpsc = Front Post Single Crochet
dc = Double Crochet
bo = Bobble
Access The Pattern/ Cardigan With Bobble Stitch
This piece of sweater in particular is much requested by professional artisans, as it can be made for both boys and girls, the mold is the same, so it is an ideal piece to have in stock in your collection.
If you liked this pattern, and are curious about our blog, and still want to view other patterns, we'll leave some more options below:
We wish you all an excellent week, full of learning about our dear crochet yarn crafts, with many patterns, lines and creativity, this is what our blog wants, with great affection and respect for all our readers.
Crochet is too good!