Beautiful blanket shells. Hi my dear crocheters, how are you feeling today? I hope you're great, and especially motivated to start another beautiful piece of crochet yarn crafts, because the blanket I'm going to leave the pattern is very interesting to be crocheted, I think you'll love it, because it's not only beautiful, it's very easy to do.
Today's pattern is nothing more, nothing less than Beautiful Shells Blanket, a true classic in the world of crochet yarn crafts, this crochet stitch is very popular on our blog, so we are always looking for new ways to demonstrate them to you, in different colors, and learning options, because as you all know, our blog is committed to teaching crochet for free.
The Beautiful Shells Blanket, can be made of the most varied colors, the combination is up to the creativity of each artisan. The pattern that will be available comes with a very descriptive step-by-step, with a suggestion of colors, lines and needles, clear illustrative images, everything to facilitate your learning, I believe you will find it very easy to make this beautiful piece of craft. of crochet yarn.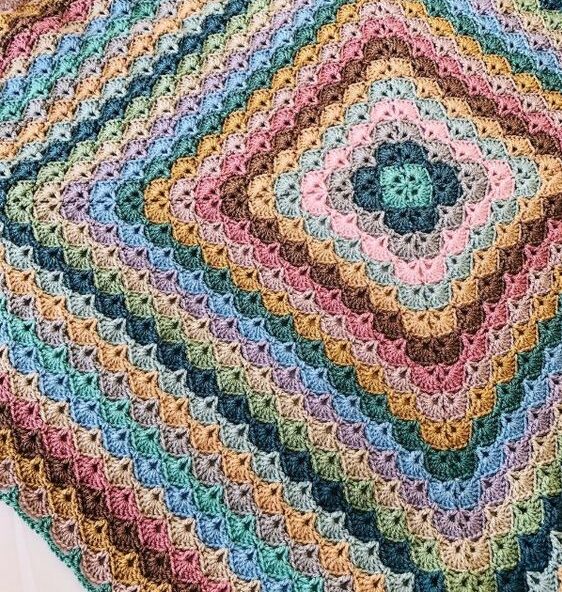 For those who are coming to our blog now, we made a point of stressing that this yarn craft is our way of expressing love, affection and respect for our neighbors, we made this blog with the sole purpose of promoting the crochet yarn craft for as many people as possible, with complete instructions and always free of charge, all our employees are volunteers, and we made our crochets with great pride in our work, and we also made a point of promoting the craft of crochet yarn, as we know that this art has countless benefits to add in anyone's life, so don't forget to follow our patterns, we're sure you'll be surprised.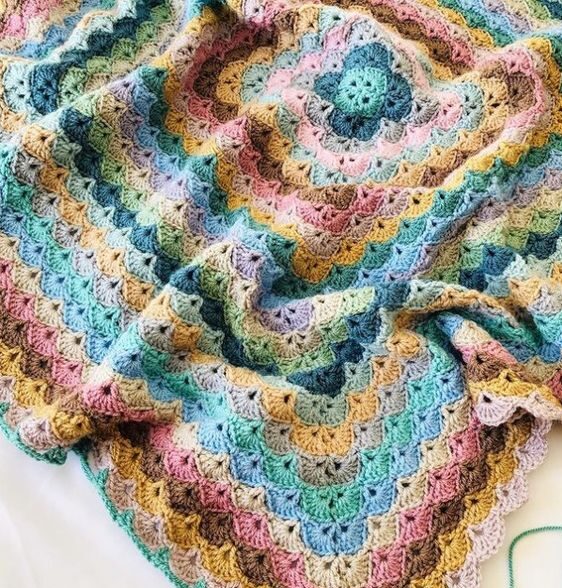 The benefits of crochet are wonderful, we develop an exemplary motor coordination, we alleviate tensions of stress and anxiety accumulated in our daily lives, we improve our logical thinking ability, and above all we develop a unique art, designed with our own hands, with great care. What makes yarn crafts one of the few exclusive crafts, as it is practically impossible for one piece to look like another, bringing the value of exclusivity to the craft.
See how to make Beautiful Shells Blanket:
Access The Free Pattern Here/ Beautiful Shells Blanket
Here are some details you needed to know to make this crochet yarn craft piece:
Beautiful shells blanket / Special stitches:
V-stitch Cluster (these are done in the sc in the middle of the previous rounds shell clusters – these are
only done in the 4 corners of the blanket) – dc, ch1, dc, ch3, dc, ch1, dc.
Shell Cluster – In the v-stitch clusters from the previous row – 7dc in first ch1 space, sc in ch3 space, 7dc
in next ch1 space – shell cluster made.
Shell – 7dc in the specified chain space
V stitch – dc, ch1, dc
We want to thank all our dear readers for the countless messages sent with their crochet work, this interaction between you and us is of great value, as it is through it that we can measure everyone's desires for crochet yarn craft patterns, logo , be sure to communicate, your opinion, suggestion and even constructive criticism are very important to us, we made crochet yarn crafts out of love, and we want more people to be reached through our art.
The word that has been defining our blog is Gratitude, thank you to all our beloved readers.
If you liked this crochet yarn craft pattern and still want to see some more crochet options, I'll leave more news for you below:
♦ Cozy Baby Star Crochet Cocoon 
The Crochet Easy Patterns blog wishes you all an excellent week, full of lots and lots of crochets, lines of the most varied colors, and lots of motivation to start another beautiful project today, grace and peace to all homes.
Crochet is too good!