Textured Honeycomb Stitch
Textured Honeycomb Stitch. Hi my dear readers, how are you feeling today? I sincerely hope that all of you are very motivated to start another beautiful piece of crochet yarn crafts, because today I'm posting this enchanting crochet stitch here for you, I believe you'll enjoy it.
As some of you already know all our patterns are complete and free, and with this Textured Honeycomb Stitch it would be no different. It comes with a nice color suggestion, fun and easy to elaborate, sharp images, and a descriptive step by step, with all the information you need to know to start this piece now, if you want.
The Textured Honeycomb Stitch walkthrough is easy, all of you can get started today, the color suggestion for this pattern is very colorful, but if you choose more neutral colors, your crochet stitches will also look beautiful, so that's why , be bold in your combinations, as a true artisan always gives the piece his/her special touch.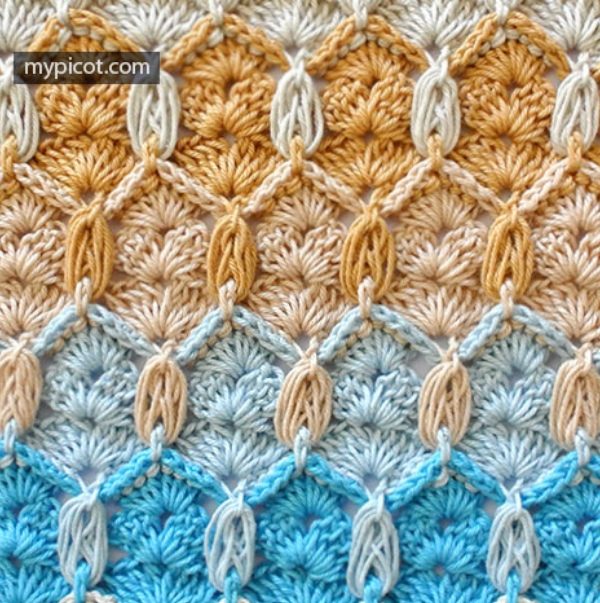 I would like to thank all our readers for the countless messages received, it is very gratifying for us to know how our readers are doing in their crochet yarn craft items, we made a point of viewing and answering all of them as soon as possible, it's worth it. It is worth noting that all our employees are volunteers, therefore, we are not always able to respond to them as quickly as we would like, so the word that defines us is gratitude.
Many of you ask us about prices for resale of crochet pieces, unfortunately we were unable to answer as we would like, because they are all from different regions, which means that the pieces are valued in a different way as well.
So, we always like to suggest that you calculate the material costs, and add thirty percent to the value, of course, people, this is just a suggestion, maybe in your region it can be more or less, this comment, it's just for those he has no idea of ​​values, and of course, folks, taking a look at the competition doesn't cost anything either.
For those of you who are coming to our Crochet Easy Patterns blog for the first time, in addition to being very welcome and thank you for joining us, we want to emphasize that here you will find different crochet models, and also of all levels. , both easy and intermediate, advanced and professional, so be sure to browse our pages and find the crochet pattern that suits you best, to start today with a beautiful piece of our dear crochet yarn craft.
Here's how to make this Textured Honeycomb Stitch pattern:
Access the Free Pattern/ Textured Honeycomb Stitch
If you liked this crochet yarn craft pattern, but you still have doubts if you want to start this piece, below we will leave some more options for you to be inspired and start your confident craft:
♦ RANDOM GRANNY CROCHET AFGHAN
We wish you all an excellent week, full of creativity, good spirits, many patterns of crochet yarn craftsmanship, and of course, many lines, preferably colored, to further diversify your beautiful crochet pieces.
Crochet is too good!