Ocean Shell Blanket. Hello my beloved crocheters on duty, today I'm leaving here on the Crochet Easy Patterns blog another beautiful crochet yarn craft pattern for you, I think you'll like it a lot, because it's a classic piece, but much requested here in our blog.
This walkthrough of Ocean Shell Blanket, is very complete, comes with suggested colors, threads, needles and clear illustrative images so that you can easily make the project. crochet, so we made a point of testing this pattern before leaving it here for you, and the project was beautiful, you can do it with peace of mind that everything will be fine.
As we always like to make clear here on our blog, the colors are just suggestions, you can make the combinations you want, according to the creativity of each one, we like to put pictures just to inspire you to create your own projects and crafts. crochet yarns.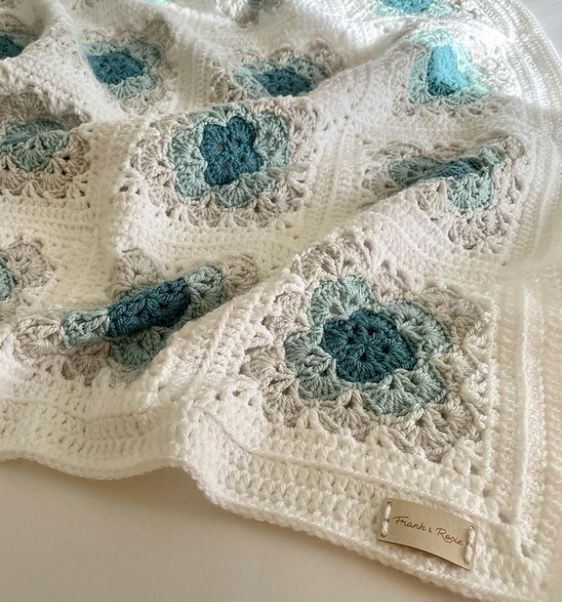 This Ocean Shell Blanket pattern is a real work of art, very delicate, but it's easy to be done, if you follow the step by step, you won't have any mistakes. If you're new to our blog, know that we have patterns for all levels of crochet, beginner, intermediate, advanced and professional, just browse our blog and I'm sure you'll find a project made just for you.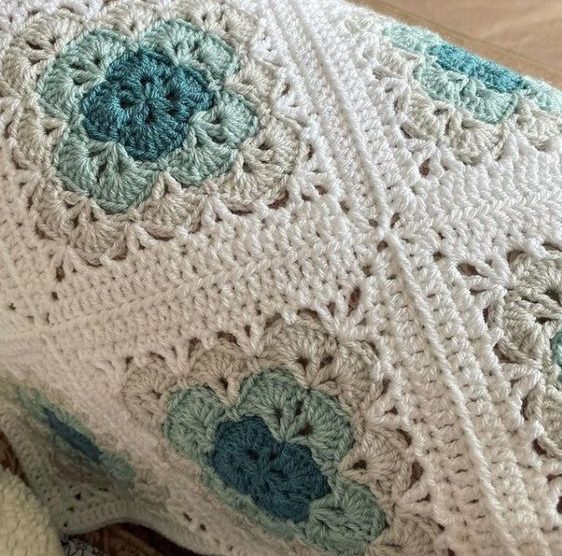 I want to thank all our readers for the countless messages delivered to us, you are amazing, we receive every day a pattern more beautiful than the one you made, and this interaction of yours makes us more and more motivated to continue spreading the word. crochet yarn craft.
Learn How to Make Ocean Shell Blanket:
Access The Free Pattern/ Ocean Shell Blanket
Some details you need to know about Ocean Shell Blanket:
Special stitches:
V-stitch Cluster (these are done in the sc in the middle of the previous rounds shell clusters – these are
only done in the 4 corners of the blanket) – dc, ch1, dc, ch3, dc, ch1, dc.
Shell Cluster – In the v-stitch clusters from the previous row – 7dc in first ch1 space, sc in ch3 space, 7dc
in next ch1 space – shell cluster made.
Shell – 7 dc in the specified chain space
V stitch – dc, ch1, dc
For those who don't know yet, our blog arose out of a need for occupational therapy, I had to go through an anxiety crisis treatment process, and the craft of crochet yarns helped me in a special way, that's when I ended up meeting other people who were also going through the same challenge and we got together to spread the crochet yarn crafts to as many people as possible.
I want to remind everyone that all our collaborators are volunteers and crocheters for hobby and fun, and we make this blog with a lot of love and affection for all our readers, we hope you are happy to share with us your favorite patterns, it's very important for we your participation, because it is through it that we can measure what you want to see patterns around here, thank you very much to all our dear readers, the word that defines our team is GRATITUDE!
If you liked this pattern, but still want to see some more options for crochet yarn craft projects, I'll leave you some inspirations below:
♦ Revival Granny Square Cardigan 
We wish all our readers a blessed week, full of the grace and love of God in their homes, and that especially not lack good spirit, and a lot of creativity to start another piece of crochet yarn craft.
Crochet is too good!